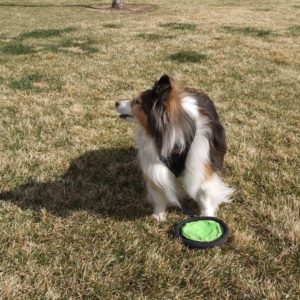 My Guardian Angel came to me 17 years ago at the darkest time in my life – I'd lost everything. She came to me in the form of a 2 ½ – pound headstrong puppy who picked me out to come home with.
I named her Amazing Grace. I wasn't even thinking of a name for her yet. But I knew that was her name. Our journey together taught me the truest meaning of love and trust. Of responsibility and gratitude. Gracie brought joy and laughter into my life.
Together we welcomed 2 elderly rescue shelties. And together we saw them leave us. My Angel helped me see the happiness each of these souls brought and helped me through the sorrow of losing them.
Every time I cried, Gracie was by my side. She helped me in ways I never knew. Until now.
My Guardian Angel has left this earth. And I'm lost. I wish I could feel her comfort in my sadness. Someday I believe I will – my Angel is my Spirit Angel now. Through my grief I'm still trying to feel her presence, her essence.
I lit candles and placed them in the windows after she left. There is a kindness I feel now. Guardian Angels come to us in many forms. My Angel was my heart-dog, my North Star, my protector.
My Guardian Angel is now my Spirit Angel. Bonds forged in life are never, ever broken. I'm learning still from her. She is here with me, she always will be. In the purest moments when my heart is open and the candles are lit – Amazing Grace will comfort and protect my heart.
My sweet Gracie, my Angel, how I miss you. I will see you again.