Our team is dedicated to being available to answer your questions and meet your needs during this difficult time. Our Care Coordinators are able to answer phone calls during the following staffed business hours:
Monday–Friday 7 am – 6 pm
Saturday 7 am – 2 pm
Sunday 8 am – 12 pm
Outside of these staffed hours, we can still easily be contacted. Our phone system will allow you to leave a message which will be returned the following morning by our Care Coordinator team.
Please note our regular hours are subject to change around major holidays. New Year's Day, Memorial Day, July 4th, Labor Day, Thanksgiving, and Christmas.
If you need to seek immediate help for your loved one outside of our regular hours please contact the following 24-hour Veterinary Hospitals and Clinics. Click the links to be taken right to their websites.
Northern Territory – Berthoud, Eaton, Evans, Fort Collins, Greeley, Loveland, Timnath, Windsor, and Wellington
Fort Collins Emergency and Rehabilitation Hospital
816 S Lemay Ave, Fort Collins, CO 80524
970-484-8080
Four Seasons Veterinary Specialists
4120 Clydesdale Pkwy, Loveland, CO 80537
970-800-1106
Royal Vista Veterinary Specialists
4630 Royal Vista Cir, #111, Windsor, CO 80528
970-825-5975
Southern Territory  – Boulder, Brighton, Broomfield, Dacono, Erie, Firestone, Frederick, Lafayette, Longmont, Louisville, Niwot, Platteville, and Thornton
Colorado Animal Specialty & Emergency (CASE)
2972 Iris Ave, Boulder, CO 80301
303-545-2273
Emergency Pet Clinic (Northside)
945 W 124th Ave, Westminster, CO 80234
866-828-2364
Blue Pearl Specialty and Emergency Pet Hospital
2000 W. South Boulder Rd. Lafayette, CO
720-699-7766
Scheduling an Appointment
We schedule regular appointments between the hours of 9 AM and 5 PM Monday through Saturday based on appointment availability and weather permitting.
Although we know emergencies do occur, the best thing you can do for your loved one and yourself is to be prepared ahead of time and call in advance to gather information and schedule your appointment. Often we can provide same-day services, however, this cannot be guaranteed as our appointment times fill quickly. Please call in advance to secure an appointment with us. We do not want your last moments with your loved one to be stressful, which can often happen if you get into an emergency situation. Saying goodbye a week early is often better than an hour too late.
Please contact us to discuss your needs and schedule an appointment.
Service Areas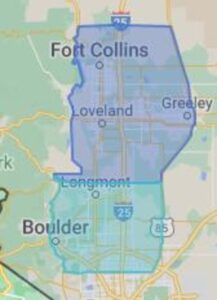 Our main areas of service in Colorado include Fort Collins, Loveland, Greeley, Windsor, Wellington, Berthoud, Longmont, Boulder, Platteville, Evans, Louisville, Lafayette, Niwot, Dacono, Frederick, Timnath, Broomfield, Brighton, Thornton Firestone, and Erie. If we cannot travel to your location, we will refer you to another excellent local service in your area.