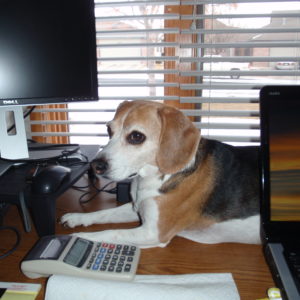 She left peacefully and with dignity on 11/24/18 @ 5:19pm to join her brother.  Her life was long, at 16 ½ years, filled with huge and endless amounts of love (bringing more to us than we could ever give in return);  inspecting all things outdoors; enjoying every adventure and always in the middle of constant fun.  Her early days were busy with hunting / retrieving doves, nosing about and just being the baby girl.  Her personality remained soft and at all times showed true lady qualities.  Our days will no longer be filled with her Beagle barks or snoring, hilarious rug overturning, watching 'getting mad at the grass' events, snuggling or receiving warm kisses but we know that Bazil's days will be bright, pain-free and happy.
Baz … you will be remembered, always be missed and loved through all time ….
We love you completely and miss you more than words can explain.  Rest now sweet girl.