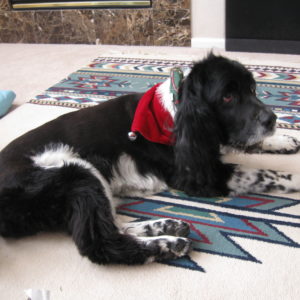 BuckLee –
I have loved you from the first moment we met. Running to greet my car with about 20 other dogs, at your foster Mom's house. Our hearts are breaking but we know going to heaven is what is best for you.
Special moments to remember –
Pool day when you held the class on digging.
You insisting on climbing the stairs to sleep in my room that first night.
Snoozing on Daddy's sofa while he and his Mom searched frantically for you.
Many hikes where you almost left us in your dust – including Diamond Lake.
Leading Dakota on a house break-out – luckily we found you.
Your rock-star hairdo and your generous kisses.
Charming everyone you ever met.
Proving Dr Sunshine and CSU wrong when they said 1-2 years ago that you weren't long for this world.
Many Furry Scurries, this year getting on Channel 4 news in your red wagon (we managed to capture the photo from the TV.)
Many Springer Spaniel picnics, the last one in your red wagon.
Digging up plants and flowers in Steve's garden and our yard.
Patrolling the perimeter while hunting for squirrels.
Always watching out for Dakota and us.
Cheyenne Canyon and Austen Bluffs – picnics with Grandmom Penn digging for roots while talking to them.
The last kiss you gave me the day you went to heaven.
You have been the best boy, the sweetest boy I have ever known and there will never be another to steal my heart so completely. We will always have you with us.
Goodbye my love, and may you find plenty of dirt and roots to dig in heaven.
We love you forever!!
Jan (Mommy) and Steve (Daddy)