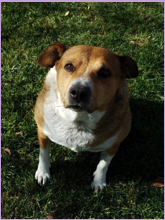 Chuca, was a beautiful dog from the Healer family with the most loving brown eyes and a golden brown and white color. She was so loyal, gentle and loved playing with kids especially Analicia, Amarissa, and Serenity, to them she was "Chuki". She loved catching bubbles with the girls, running in the yard, the outdoors, and especially loved to fire-pit with family. She always wanted to take part in everything, even fireworks on the fourth of July!  Chuca loved to eat, especially her favorite treats, duck jerky.  She loved you to rub her behind her ears and she loved to offer you her paw to hold. It was not always easy for her, Chuca was a fighter the last few years. It was the hardest decision to make to let her go but we knew in our hearts it was the right one.  We were so lucky and blessed to have her in our lives for 14 years. She is now in the best hands ever running free without pain.  Rest in peace Chuki girl, we love and miss you very much.
Leaving paw prints on your heart
 She came into your heart one day,
So beautiful and smart,
A dear and sweet companion,
You loved her from the start.
And though you knew the time would come,
When you would have to part,
She'll never be forgotten,
She left Paw prints on your heart.