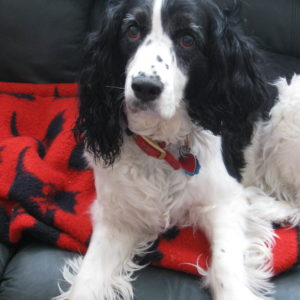 Dakota –
I have loved you from the first moment I saw you, being carried out to me in Nebraska like someone carries a rabbit, chubby little belly forward. Our hearts are breaking but we know going to heaven is the best thing for you.
Special moments to remember –
Your keen ability to open any door or cabinet in your endless search for treats.
Counter-cruising and cabinet-scratching, so cute to watch!
Teeny tiny nose kisses to welcome Daddy.
An ER trip after you ate the entire contents of a trash can.
Such a good little traveler on the trip to Kansas to meet your new brother Galahad.
Trotting up to the counter at La Quinta Inn like you wanted to check-in, on the trip to check out your new brother.
Your two-tone, high-low bark that I can still hear.
Endless sessions of laying in my lap like you did when you were a baby.
Being such a good sister to both your brothers BuckLee and Galahad.
Going to 3 different obedience classes before Mom figured out you were your own slightly misbehaving dog.
Barfing in your tiny crate the first time BuckLee, you and I went for a hike.
Saving Mr. Squirrels life: he was caught inside fence planks in Parker, you alerted us he was there.
Pizza parties with BuckLee, Mommy, and Daddy on our queen size bed in Parker.
Being so happy-go-lucky, never letting blindness or anything get you down.
The last lick on both Daddy and my hand the day you went to heaven.
You have been the best girl, the sweetest girl I have ever known and there will never be another to steal my heart so completely. We will always have you with us.
Goodbye my love, and may you find plenty of treats, cuddles, and laps to lay on in heaven.
We will love you forever!!
Jan (Mommy) and Steve (Daddy)