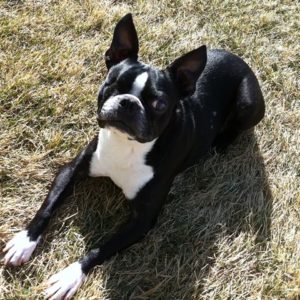 9/15/2006-11/19/2018
Ernie came to us through a Boston Terrier Rescue in 2010. Having come from a difficult beginning in a puppy mill, he didn't know what it felt like to be loved, to be free and to generally enjoy life. We adopted Ernie when he was 4 years old, and with lots of love from us, and his fur brother Logan, he began to understand what it meant to be a happy dog-and give love too! He made us laugh all the time with his funny antics, his huge smile, and the happy circles he would do when really excited about something.
He used to love running alongside his brother Logan when playing ball. He never really got the hang of 'playing' ball, but as long as he could be with his family, he was happy. We will always remember his sweet snuggles on the couch, silly snorts of happiness, and how much he loved his treats.
We will never forget you Ernie. Thank you for your unconditional love and showing us what it means to learn to live again. We will love you forever.