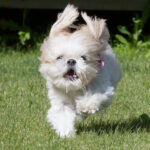 First let me tell you who I am, then I will tell you a little bit about Lassie.
I am Scrappy and I am Lassie's sister and litter mate.  We looked after each other from the day we were born.  She was a little bigger than me (as I was the runt of the litter) but she was never mean to me (unless I startled her awake) and she would snap at me….but we all get a little cranky when we are sleeping don't we?
Lassie and I were born in Alberta Canada and we spent the first six years of our lives there before we moved to Colorado.  We liked it and we visited it often….and we loved road trips.  We were told that we were never really like real dogs as we didn't like to put our head out the window, play with toys and we weren't going to fetch a ball (why would we chase something that our human threw away on purpose).  But, we did like our treats and we loved going for walks and we liked to sleep with our head on pillows and under the blankets.
Lassie was a great sister……we are/were both really quiet and I don't like to bark unless I am playing, so when I needed to go outside, Lassie would always give one 'woof' to let our people know that I needed to go.  If Lassie needed to go in the middle of the night, she would give a 'quiet' woof as she didn't want to wake anyone up…..such a lady, always.
When Lassie was diagnosed with cancer in October, 2020, everybody was really sad – I didn't really understand but I tried to comfort my people.  Lassie had to go to oncology every week for chemo but things weren't getting better, in fact they were getting worse.  Lassie fought the fight really hard for five months but there was nothing more that they could do, there were no more treatments and unfortunately cancer won the battle.   We are all so very sad.
My people now take me everywhere they go (they took both of us 'just about' everywhere) so not a lot has changed….except I see how sad my people are without her.
We had just about 13.5 years with Lassie and there wasn't one day that wasn't great.  She filled all of our lives with joy, love and laughter.  All we have left are the memories…..and they will live on furever.
R.I.P. Lassie
We love and miss you so much.