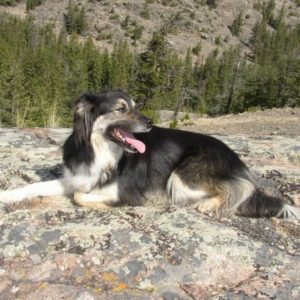 August 4, 2004, "Mac," a 7-month-old Australian Shepherd Border Collie mix, arrives at the Denver Dumb Friends League by way of a small, rural animal shelter. A couple of hours later, I stop in for a quick browse of the new dogs and am immediately captivated. I imagine that "Mac" had been out with the cattle, got bored, chased a rabbit over a hill, and lost sight of the ranch truck. A kind stranger found him wandering along a creek bed and took him to the nearest town where no one knew him.
Back at the Denver shelter, I bring Dad and the kids to meet "Mac," who makes eye contact with each of us. We take him home and call him Max.
Someone had taught him to sit and stay with hand signals. We teach him to walk on a leash and heel off-leash, which leads to a life-long passion for fast-walking long stretches of the Highline Canal, and hiking high mountain trails.
Everywhere he goes, Max is admired for his good looks and charming manners, although on occasion he cannot resist the urge to jump up on someone he takes a liking to. At home, he fiercely defends us against mail carriers and delivery persons, but never barks when someone he knows comes to the door. He patrols the backyard, managing the squirrel and bird population. Early on, he saves us from the tyranny of sprinkler heads by removing them one by one and proudly delivering them to the back porch. Indoors, he monitors our living room conversations and puts a quick stop to rough talk. When dinner is ready, he herds us into the kitchen. On Friday nights, he is allowed a bite or two of challah from the table but never once takes food without permission.
The kids leave for college and when they come home for breaks Max leaps for joy and smothers them with kisses. Absent kids, Max oversees his adults. When a strange dog gets into our yard and threatens Dad, Max places himself in between them, clearing a path to the house for Dad's escape. On hikes, Max runs ahead to scout terrain, returning to show us the best route. He forms relationships with neighbors, friends and family who greet him by name when they come for dinner, bridge, and holidays. He ages gracefully, until he doesn't. He loses his hearing—a blessing during the thunderstorms he fears— and his eyes cloud. When finally he struggles on walks in the neighborhood and city parks, I know he won't be with us much longer. To prepare for his death, I find an environmentally-friendly alternative to cremation, and veterinarian Kathleen Cooney, who will manage Max's final hour, handle his remains, and help us face our loss. We are thankful for her care.
On a warm summer morning in July, 2018, Dad and I bring Max from Denver to Loveland for euthanasia and carbon-neutral aquamation. Max's ashes will be buried in our backyard and scattered along the trails he loved.