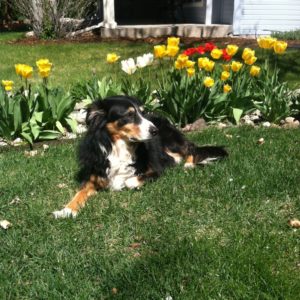 Molly came to us from Wyoming Border Collie Rescue on a sunny day in August 2007.  She was a six month old with plenty of spirit and ready to fetch about anything.  We knew she would demand exercise and did our best to keep up.  Molly just loved to run!
As the years passed, Molly was just part of us, she had learned our vocabulary so well we sometimes had to spell so she wouldn't get too excited when we took her for her W-A-L-K.  Then she learned to spell, so we had to use hand signs.  She was so smart (we know she had vocabulary of 200 or more words).
Thirteen months ago Molly was diagnosed with congestive heart failure and fought to enjoy the months she had left.  We continued to walk everyday and she loved trapping the squirrel in the front yard tree.  Her favorite pastime was laying in the front lawn and watching people walking by and greeting the mailman and UPS driver.
Our precious Molly lost her battle on May 2, 2018. With the help of Home to Heaven we were able to comfort her on her favorite sofa.
We would like to thank  Amber from Home to Heaven and Dr. Potter and the staff at Colorado State University Veterinary for giving us more time with Molly.