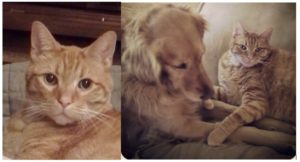 14 years ago, we fostered our first litter of kittens and took care of them until they were old enough to be put up for adoption. My daughter fell in love with Tabby, the rambunctious runt of the litter, so he was ours to keep. Our little "runt" turned out to be 25lbs and was king of the house. He took his duties as guard cat very seriously and even scared most everyone who came over.
Tabby grew up with dogs his entire life. During the first half of his life he grew up with Cody, a Golden Retriever and Jesse, a Terrier mix, then for the last 8 years another Golden named Jaeda. Tabby always was the boss but loved to play around with the dogs then fall asleep right next to them. Sometimes he would kick Jaeda out of her big dog bed during the day and she would just lay her head on the bed while Tabby was all stretched out.
Tabby always had a soft spot for our family! He would sneak up on the kids when they were little, but after they grew up and moved out he would always come running when they came home. He loved TV time in the evenings with my husband and I because he would first go visit dad for a few pets, then make his way over to sleep on the blanket I always had on my lap!
There are so many memories. We will miss this big guy and never forget him. So glad we kept the "runt" with the beautiful markings!
RIP sweet baby! Thanks for all your unconditional love and laughs! ♥
Love Mom & your family