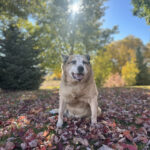 Hi my name is Whiskey and my family says that I am the smartest dog that they have ever known. It all started fifteen years ago when my dog family and I were dumped in the country and the animal cops came and took us to the pound. Now I wasn't the cutest puppy not like my siblings, so I knew that I had to make an impression if I wanted to get out of there, so when these two sisters came in to look at us I ran over to them and wrapped my legs around their shoulders and hugged them, and It worked!
I now had a warm home with a dog bed in almost every room, my own food and water bowls, lots of treats, and most of all love like I had never experienced before. I mean everyone loved me, they would constantly tell me that I was the best dog EVER!!
I loved to play ball, and chase my family around the house, I even carried my own leash when we went for walks. I LOVED to go swimming, you couldn't get me out of the water, I used to dive for rocks, man that was a blast! Although I will probably say… no I will definitely say that "snacks" were my favorite, I would eat anything and that's no lie!
I sure am going to miss my family especially my mom she and I were close, and I followed her everywhere, wherever she went I went. I promised her I would wait for her up here so that's what I am going to do. I can run now, my hips don't hurt anymore, and there's a lady up here that I remember, and do you know what she told me? That I am the smartest dog that she has ever known.